History & Use of the Op-Ed for Social Action, Teach-In & Workshop
Map Unavailable
Date/Time
Oct 23, 2020
12:00 pm - 1:30 pm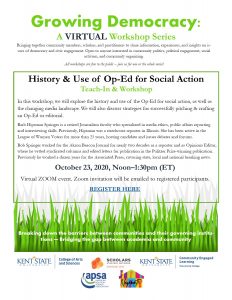 In this workshop, we explore the history and use of the Op-Ed for social action, as well as the changing media landscape. We also discuss strategies for successfully pitching & crafting an Op-Ed or editorial.
Barb Hipsman Springer is a retired Journalism faculty who specialized in media ethics, public affairs reporting and interviewing skills. Previously, Hipsman was a statehouse reporter in Illinois. She has been active in the League of Women Voters for more than 25 years, hosting candidate and issues debates and forums.
Bob Springer worked for the Akron Beacon Journal for nearly two decades as a reporter and as Opinions Editor, where he vetted syndicated columns and edited letters for publication in the Pulitzer Prize-winning publication. Previously he worked a dozen years for the Associated Press, covering state, local and national breaking news.
[presentation slides, with permission from Barb Hipsman Springer & Bob Springer]
WATCH NOW: