Ready for a deep dive into political and civic engagement, governance and community power, or local democracy? Check out our latest podcasts!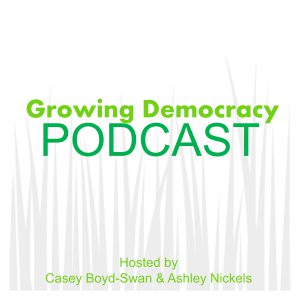 The Growing Democracy Podcast, hosted by Shemariah Arki, Casey Boyd-Swan and Ashley Nickels, features interviews with community leaders and area experts focused on equity-centered civic and political engagement, local governance, and social justice.
Launched in 2020, during the pandemic, we initially planned to a single, 10 episode series. Between June 2020 and August 2022, we produced 74 episodes under 6 series titles: 1. Governing During a Pandemic; 2. The Power of Civic and Political Engagement; 3. Filling Gaps; 4. Serving the Public Interest; 5. Demystifying Policy-Relevant Research; and 6. Race and Democracy in Northeast Ohio.
In September 2022, we relaunched the podcast, with our newest host, Shemariah Arki. New episodes begin at episode "200" to indicate the relaunch of Growing Democracy 2.0.
Check out a list of all of our episodes here, or listen below. We aim to make our podcast accessible by providing transcripts for each episode. Find transcripts for each episode here.
---
Listen to Podcast Episodes Now…
Find us on your favorite streaming platform: Apple Podcasts, Audible, Stitcher, and more.