Race & Democracy in Northeast Ohio, Community-Engaged Research
Co-PIs (Drs. Ashley Nickels, Casey Boyd-Swan, Shemariah Arki, and Anuj Gurung)
About the Research Project: Details coming soon!
Part of a series that will include a 10-episode podcast series focused specifically on the intersections of race and democracy in northeast Ohio, community workshops on the topic of race and democracy, online curricular materials (activities, toolkit, concept pages), Blog posts, and a white paper.
This collaborative partnership was made possible with funding from Mark Lewine and the John Gray Paynther Program.
Upcoming RDNO Events: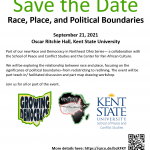 SAVE THE DATE