The Growing Democracy Project, Race & Democracy in Northeast Ohio series, is proud to announce our Spring 2022 events!
Focus, Flash, Film: Facilitating Community Dialogue on Race & Democracy Through Film and Photography
April 11 – April 22, 2022
Kent State University (Kent, OH)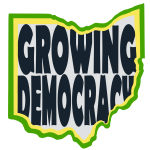 Over the course of  two weeks, from April 11 through April 22, we will be hosting a series of events that focus on Race & Democracy in Northeast Ohio. Through film, photography, and community dialogues, we look forward to engaging with the northeast Ohio community about the relationship between race and democracy–and learning, what "race & democracy" means to you?
Join us for a series of in-person and virtual film viewings; Q&As with film makers, documentarians and participants; and our photovoice exhibition.
SONITA: April 11, 2022, 6pm, VIRTUAL screening and discussion
Two-time Sundance Film Festival award winner SONITA tells the inspiring story of Sonita Alizadeh, an 18-year-old Afghan refugee in Iran, who thinks of Michael Jackson and Rihanna as her spiritual parents and dreams of becoming a big-name rapper. For the time being, her only fans are the other teenage girls in a Tehran shelter. And her family has a very different future planned for her: as a bride she's worth $9,000. Iranian director Rokhsareh Ghaem Maghami poignantly shifts from observer to participant altering expectations, as Sonita's story unfolds in this personal and joyful portrait. An intimate portrait of creativity and womanhood, SONITA highlights the rarely seen intricacies and shifting contrasts of Iranian society through the lens of an artist who is defining the next generation.
After the film, stay for a moderated discussion with KSU student and GDP intern, Erik Gomez.
Register HERE. The screening and moderated discussion will be hosted on Zoom. NOTE: this event is for faculty, staff, and students at KENT STATE ONLY. (you will need a KSU login to view)
BLM Shorts: April 12, 2022, 11am, VIRTUAL screening and discussion
Join us for a series of film shorts and film trailer screenings that discuss the rise the Black Lives Matter Movement #blacklivesmatter.
Discussion facilitated by Dr. Shemariah Arki.
This event is free and open to the public. Please register HERE. Screening and moderated discussion will be on Zoom.
Underexposed: April 14, 2022, 8pm, Kent State Commons (outside event)
Join us for a screening of Underexposed. Enjoy food, discussion, and a performance by Shooting without Bullets.
The documentary short, Underexposed, brings visibility to Black youth in Cleveland as they find solace in art making and performing as members of Shooting Without Bullets, Cleveland's revolutionary youth advocacy program. This coming of age story illuminates their discovery of self in the midst of extreme economic depression and stark racial segregation. Directed by Noelle Richard and Dagen Louis. Produced by Amanda King and Jacob Koestle.
This event is free and open to the public. Learn more about where to park, etc HERE.
Excerpts from, Asian Americans: April 19, 2022, 6-8pm ***TIME CHANGE*** Kent State Student Multicultural Center
Excerpts from this five-hour film series that chronicles  the contributions, and challenges of Asian Americans, the fastest-growing ethnic group in America. Personal histories and new academic research will cast a fresh lens on U.S. history and the role Asian Americans have played in it.
Dr. Ashley Nickels will facilitate the discussion after the film. This event is free and open to the public. Light refreshments provided.
Just Another Mile: April 20, 2022, 2:00-4:00pm, Kent State, Oscar Ritchie Hall, Rm 250
Discover the stories of two historically Black Ravenna neighborhoods, McElrath and Skeels. The documentary was filmed by Gloria Matlock, who interviews elders about their lives and the lives of their communities.
Q&A with filmmaker Gloria Matlock will follow the film, moderated by Erik Gomez.
This event is free and open to the public. Light refreshments provided.
Dispatches from Cleveland: April 21, 2022, 5-7pm, Kent State Student Multicultural Center
Dispatches from Cleveland is a feature-length documentary in five parts that follows ordinary people – long shaken by police misconduct, social discrimination, and poverty – whose love for their home pushes them to work together to bring about real change. Directed by Catherine Gund.
This event is free and open to the public. 
Photovoice Exhibition [details coming soon]
Learn more about the Photovoice Project and consider submitting
here
.